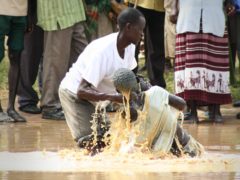 April 29, 2020
Greetings to you all in the Name of the Lord Jesus Christ. I trust this letter finds you all doing good and growing in the things of God. I just wanted to write to you today and share a few things that are on my heart.
First, I wanted to thank each and every one of you for your continued love and support. We feel we are the hands and feet of our Lord Jesus Christ, helping the servants of God makes us feel like the little Shunammite woman with the cake for Elisha. We speak a lot concerning teamwork making the missionary program function, and these last couple of months we have seen the team shine. Because of these things, we have seen baptisms in foreign countries where we have supported the efforts. We have seen lives rededicated to the Lord through the overseas work and our own local efforts. We have stayed in closer connection with the overseas work and through your support we have been able to feed thousands of believers around the world. Our churches at home have been checking on our own as well, and by the help of the Lord and your caring hearts, we do not know of anyone who has went hungry here at home. For those of you who have given offerings, given of your time in prayer, or found some way to contribute during this time, thank you and may God reward you.
We are excited about the work going forward. During this time of lockdown, we have been doing a lot of praying and planning for ways to do more for the Lord. We have certainly added to our workload with new projects taking advantage of social media in order to reach more people with the good news. I trust that you are all paying attention to these as they start and keeping them in your prayers that God will accomplish great things through them.
I also wanted to mention a new tape to listen to this week. It is "Redemption in Completeness, In Joy" 54-0330. I trust that the Chautauqua series of messages were a great blessing to you, and I appreciate you taking the time to feed on the Word of God. There are so many things to distract us these days, but it is important to take the time for positive influence if we expect proper growth.
Sunday we will be announcing some of our upcoming plans including our plans for our annual missionary meeting in Genoa, IL in June. We will have to make a few changes and are praying and finalizing those things now. Please keep our team of leadership in your prayers both for the local work and the international work as we seek the will of the Lord in all things. God bless you.
Your brother in Christ,
Bro. Daniel Martin
Missionary / Senior Pastor