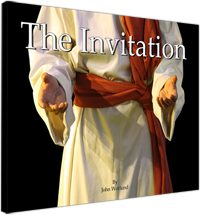 Update: December 20, 2011
Bro. John Worlund has updated his web page to include free downloadable copies of The Invitation in other languages!
http://www.heisalivepublications.com
September 29, 2009
The Invitation was put together by Bro. John Worlund, who is one of our missionaries. The idea for this book was to create a tool that could reach those who may never go to church or pick up a bible by using photography to illustrate Jesus Christ the same yesterday, today and forever.
It is an eighty page, full color, inspirational photo album depicting Jesus Christ knocking at the 'heart's door'. The Invitation shows a broad spectrum of everyday people and their reaction to 'His knock'. It is a soft cover, landscape style book measuring 11 x 8 ½ inches.
A portion of the proceeds from the sale of this book is given to Worldwide Missionary Outreach for the furtherance of the gospel.