Bro. Herbert Makoba from Uganda is doing well there with the brothers doing missionary work. We just purchased a motorcycle this week so the native missionary brothers can be more effective in their outreach. They have been covering the many miles on bicycles which is taking them a long time and can be done much more efficiently and effectively with a motorcycle. This is just one of the many things that we are able to do for other missionary works because of your faithful prayers and support. The following is an email from Bro. Herbert that came in today.
…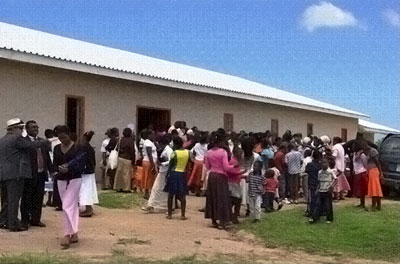 Dear Brothers and Sisters,
Greetings to you in the wonderful Name of our Lord and Saviour Jesus Christ.
It is a great privilege to write to you concerning the many things that the Lord is doing in the mission fields. As you know we have just returned two weeks ago from South Africa, and have seen the things that God is doing in Zululand. The church is growing each and every day. We have about 250 converts in the area and God is adding to the body daily. We are preparing now for a major mission operation to spread the Gospel throughout the Zulu Nation. Our goal for 2008 is to reach every village in Zululand, the Lord be willing and give us the strength. Please keep all of the laborers in the Lord's harvest in your prayers that they may carry out this work and that the last predestinated seed may be found. We are also preparing to go into the townships in a major way this coming year to the millions who have never heard the Gospel in these shanty-towns.
…
I have enclosed an email from Sis. Elen Avila in Mindanao that was sent on the 4th of the month. This program is now fully operating and eight more souls have been baptized since this time.
…
Sign up for our Weekly Bulletin
Our Weekly Bulletin contains a summary of the missionary work from the previous week, current and upcoming events, our Tape of the Week, and Quote of the Week.