Dear Brothers and Sisters,
Greetings to you in the wonderful Name of our Lord and Saviour Jesus Christ.
It is a great privilege to write to you concerning the many things that the Lord is doing in the mission fields. As you know we have just returned two weeks ago from South Africa, and have seen the things that God is doing in Zululand. The church is growing each and every day. We have about 250 converts in the area and God is adding to the body daily. We are preparing now for a major mission operation to spread the Gospel throughout the Zulu Nation. Our goal for 2008 is to reach every village in Zululand, the Lord be willing and give us the strength. Please keep all of the laborers in the Lord's harvest in your prayers that they may carry out this work and that the last predestinated seed may be found. We are also preparing to go into the townships in a major way this coming year to the millions who have never heard the Gospel in these shanty-towns.
I have included a couple of pictures of some of the young men that have been converted and are now on fire for God, working out of our church at Monzi.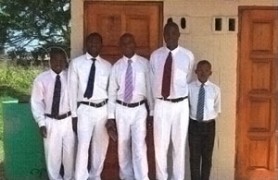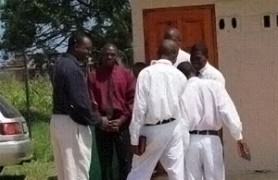 Please keep these brothers in your prayers as they will be a vital part of the mission teams who will be going out.
As I am writing this letter, we have four teams on the ground scattered throughout the Philippines, with three more teams including myself to be there Monday. The Lord is moving there in a mighty way with several new pastors and churches coming into the Message. Please keep the native missionaries in your prayers as they are working aggressively with Operation Compel. Many souls have come to know the Lord Jesus through this wonderful outreach. The brothers are working tirelessly day and night to reach the lost.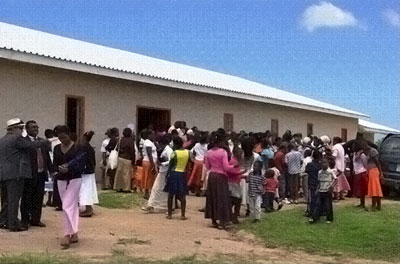 Also please keep in prayer the mission work in Del Rio, Texas where we have had the broadcast playing six days a week. This weekend Bro. Matthew Peters and Bro. Justin Brown will be going there and doing mission work, joining Bro. Michael Blair who is there on a permanent basis. They have many outreaches scheduled so remember this in your prayers.  Also keep in your prayers believers in India. We are receiving many new requests for missionaries in India.
May God bless you and keep you as we work together to continue the missionary work. Thank you for all that you do for the Gospel.
Bro. Daniel Martin
Missionary / Pastor