Bro. Shane Riley
Dear Bro. Daniel,
Bro. Toby and I have just returned from Karamoja region in Northern Uganda.  We have brought back many greetings from the saints there in Kampala, Sironko, and Karamoja.  We had a very wonderful trip and were very excited to see God work in so many wonderful ways.
Sir, we were able to lead a village drunk to the Lord Jesus Christ in a place called Kerikakane.  There in the dirt with a very bright African moon overhead, we led him in a sinners prayer.
Also in a small service in Kongole, God poured out His Spirit on the believers there with Bro. Samuel Lokuro.  A woman with a blood issue was healed that night.  Also a full Colonel in the Ugandan Peoples Defense Force (UPDF) Special Forces was present in the service.  He asked later, "what was that presence I felt in that little church?"
A special detachment was assigned to us from the UPDF.  Along with this detachment was a Corporal by the name of Daniel who had brought with him on this night a little bit of alcohol.  We simply began sharing some testimonies involving soldiers in the Philippines.  Within just a few minutes, he was teary-eyed and asking God to forgive him.  He told us that he could not even remember fifty weekends in a row.  He began to repent and cry out to God.  The next morning during a short devotional, he asked to be baptized in water.  After a very full day, we took him to a small livestock watering hole and Bro. Toby baptized him in the Name of the Lord Jesus Christ.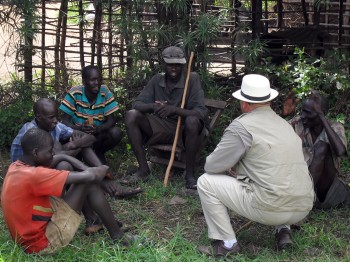 In the way of reports, for tools needed in the mission works, we were able to bring to the region thirty one full size ministers Bibles, 120 pocket sized New Testiiments in English (all in the King James Version).  Ten of these were United States soldier Bibles and these we gave to soldiers in the UPDF.  The new total of bicycles that we have given to the missionary brothers is eighteen.
Here are some testimonies and thanks for the bicycles that the brothers asked me to extend to you and the saints at home:
I would like to thank God who led you to give me a bicycle which right now helps me to do the work of the Lord easily.  I'm riding to Kairikiakine, Lomaratort church and other places for outreach preaching.  So may the Lord bless you richly.Yours in Christ, Pastor Lorot Michael
As a church in Moroto District in the village called Kangole, we are very much thankful to God because of the leadership which He put in the heart of our brothers in WMO to facilitate us with transport in order to easy the work of God in our region.  We the mentioned brethren below are very happy and still pray to God to add you more leadership.

Pastor Lokoro Samuel is very happy and this simplifies my evangelism
Bro. Amouese Benerd is thanking God because of that revelation of giving me a bicycle.
Bro. Umo John Mark is happy for my evangelism to be simplified with this bicycle.

May God add blessings to you.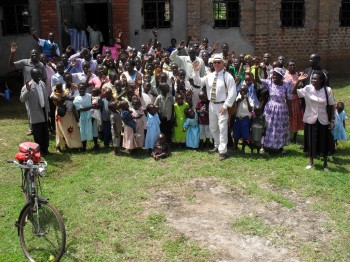 Your co-laboror in the Gospel,
Bro. Shane Riley
Bro. Toby
When attempting to describe the things of God, words always seem insufficient. It was an honor to be a part of the works of God, to witness his Hand amongst his people, and now to testify of those Great and Mighty works. We were honored to witness God bring Salvation to the lost, healing to the sick, and the newness of life those dead in sin.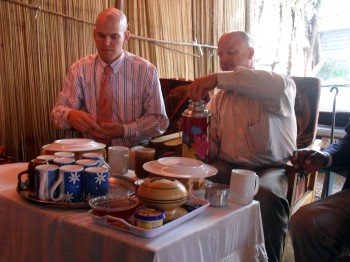 We were able to spend time with the Brothers and Sisters in the manata – the traditional village-type abode of the local people. These manatas are everything you would expect of rural Africa – remote, rudimentary, and simple. We were privileged to witness the daily life of these believers as they went through each day praising God for the blessings he showered upon them.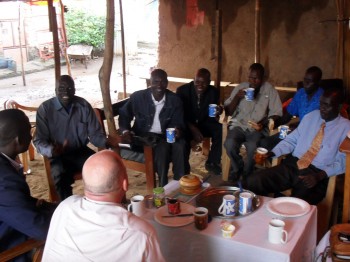 This simple life made me think of what it must have been like for God's children before the days of radio, television, cell phones, and internet. In the manata, we would worship with the entire village at night under the stars  – it was during such a worship service that a drunkard came forward to accept Jesus Christ as his personal Savior. Right there, under the stars, kneeling in the dirt, the evidence of God's creation all around – crickets, bullfrogs, and lightning bugs, in the simplest of circumstances possible – we were allowed to lead a man to the Salvation of God through Jesus Christ.
As the opportunity presented itself we would worship with our Brothers and Sisters in the churches they have erected to our Lord. The people – living a life uncomplicated with the many designs and distractions of man – were eager to believe the Word of God and accept their healing provided through the Cross of Calvary. During one such service, the Power of God came down into a simple little mud-brick church and healed a woman of her infirmities. Just as that little woman had the faith to touch the hem of our Lord's garment as he passed by that day long ago – so this Sister had the same faith, and received her healing instantly. I have no doubt that as the days pass; we will continue to hear testimonies from the Children of God about that night in Kongole.
During our stay we worked with the Brothers and Sisters on various projects. One such project brought us into contact with the Ugandan military. A small squad of Soldiers was assigned to work with us for a period of about a day and a half (1.5 days). As the night came, the Soldiers began to bring out their alcohol and rock-n-roll music to pass their time. It grieved me to know that these men, dead in their sins, were separated from the Words of Life by only a few feet and did not even know it. The Holy Spirit made an avenue for us to talk with the Soldiers. Bro Shane Riley began to testify of the things that God has done, both in his own life and the lives of others. We watched as the Holy Spirit began to deal with the Soldiers – soon they turned their music off, put the alcohol down, and began to hear the Words of Life. The Holy Spirit began to work on one Soldier in particular – his name is Daniel. As the Holy Spirit began to speak to him, we saw the man put his beer down and even try to shove it under the table in an attempt to hide it – after just a few minutes in the presence of God he was ashamed his ungodly ways. He confessed that he was an alcoholic and that he could not even remember a single weekend in almost a year – he asked us to pray for him that God would deliver him of the power that alcohol had on his life. We prayed and within minutes watched as the Power of God not only took the desire to drink away from him, but also sobered him to the point that you would not have even known he had been drinking. The next morning he asked us to baptize him in the name Jesus Christ.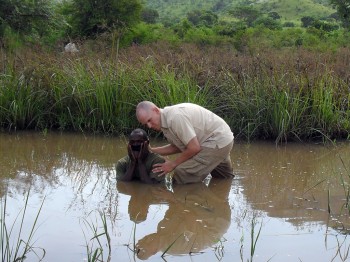 We stopped at a pond alongside the road and baptized him next to cows, goats, and onlookers in the name of Jesus Christ. The young man came out of the water rejoicing. The first thing he did was to call his wife and tell her of his Salvation. His wife's joy could not be disguised as she shouted into the phone loud enough for all of us in the car to hear. She is a Christian and had been praying for the Salvation of her husband for a year. Praise the Lord!
This is only my feeble attempt to portray just a very small portion of the Work of our Lord. May God forgive me if I have failed in any way to properly convey the Great and Mighty things of God. I pray that the Holy Spirit will help me continue to be a part of these things as time passes.
God Bless you all,
Your Brother
Tobias